Summary
BTC continues to maintain bullish sentiment.
Large investments from corporate treasuries and institutions have grown tremendously in the past several months.
Price has formed a technical setup for another large extension higher.
Looking for more investing ideas like this one? Get them exclusively at Crypto Waves. 
Co-authored by Avi Gilburt and Ryan Wilday
Avi Gilburt recently mentioned the "point of recognition" from Robert Prechter's work, The Elliott Wave Principle: "This is the point within the heart of the 3rd wave where the masses begin to recognize the strongly bullish nature of the market price action. It is also the segment within the market structure wherein the fundamentals of the market and the economy begin to align with the price action." Clearly this characterizes the market action since mid-year 2020.
There have been several newsworthy developments that have positively associated with BTC in the past year, aligning sentiment and fundamentals (selected examples here).
May 2020: The third Bitcoin halving should take place around this date on block 630,000. The amount of new Bitcoins issued every 10 minutes will drop from 12.5 Bitcoins to 6.25.
August 2020: American business intelligence company MicroStrategy announces having purchased 21,454 bitcoins at a price of US$250 million, with the purpose to hold as a treasury reserve asset.
October 2020: American payments company Square (NYSE:SQ) announces having purchased 4,709 bitcoins (about US$50 million) in investment, representing 1% of the firm's total assets.
October 2020: American financial services company PayPal (NASDAQ:PYPL) announces a new service allowing all users in the United States buy, hold, or sell bitcoin using PayPal.
November 2020: Bitcoin reaches a new all-time high of $19,860, surpassing the previous peak of $19,783 from December 2017.
December: Private German bank Hauck & Aufhäuser announces launch of a cryptocurrency fund which includes Bitcoin, Ethereum, and Stellar, in an attempt to pursue a passive investment strategy.
February 2021 Credit card company Visa (NYSE:V) announces plans to help banks roll out Bitcoin and cryptocurrency buying and trading services with a Visa crypto software program, set to launch later in the year.
February 2021: Tesla (NASDAQ:TSLA) announces having bought US$1.5 billion worth of Bitcoin.
February 2021: American financial services corporation Mastercard (NYSE:MA) announces that it will begin supporting cryptocurrencies on its network later in the year.
February 2021: The Bank of New York Mellon announces that it will begin financing Bitcoin and other digital currencies. This is regarded as a validation of crypto from a key bank in the financial system.
Price has been in a 3rd wave, with price action characteristic of that described in Avi Gilburt's quote since the early September 2020 lows. In our service, Crypto Waves, we have taken a cautiously optimistic approach in the past month to trading the long side above $50k as price nears some of our medium-term targets. To reiterate from Bitcoin article from March 2021, Crypto Waves: Next BTC Buying Opportunity, while ultimately we expect much higher later in 2021, BTC is approaching an important intermediate top that could take price back to test the $34k region. As such, we've maintained a cautious approach in our analysis here rather than expressing unbridled bullishness.
Amidst the "measured" tone, BTC is signaling that the possibility of more direct extensions even upwards of $90k has become a higher probability.
In our work, the high just shy of $60k that was struck in mid-February was sufficient both in terms of the Fibonacci extension reached and wave structure to have completed all of the 3rd wave. However, from a Fibonacci retracement standpoint, Bitcoin bulls have not allowed for anything significant in the way of a pullback. While a 33% correction like the one BTC had in January or the 25% correction in late February are certainly large, these are – historically speaking – quite typical "small" corrections for Bitcoin. And from a Fibonacci standpoint, we have no indication that our 3rd wave has completed. Instead, the price action appears to be hinting at much higher extensions.
Given the short-lived pullback in mid-to-late February, followed by price forming a new all-time high in an incomplete pattern, this action strongly suggests that the February high only completed wave iii of 3, instead of all of the v waves of 3. So, while Initially we were looking for a test of the $60k-to-$75k region for a potential top in wave 3, (the move that began off the September low) we are now seeing higher levels as more near term likely targets.
The final wave circle v of 3 is taking shape of what is referred to in Elliott Wave as an ending diagonal. This is still a five wave move expressing motive sentiment (in this case) in the bullish direction. However a diagonal can be characterized by a lot of overlapping price action and an internal structure of 3 wave moves, comprising each of the subwaves: (I)-(II)-(III)-(IV)-(V).
As of writing this article with Bitcoin trading just over $60k, price is in the early stages of the wave (III) on the accompanying chart. In this diagonal form, price is expected to target between the 1.0-1.382 extensions for wave (III), visible in the violet Fibonacci lines, ranging between $72.5k and $83.3k. Ultimately, the wave (V) of circle v should complete all of the rally off the September low targets $88.1k-$95.7k. While ideally price maintains above $55.5k for the duration of the pattern, the setup described is viable so long as price remains above $50,450–the March 25th low.
Reiterating the caution from last month's BTC article, for those of you who don't wish to withstand a large correction for your entire position, please do not overstay your welcome. After this 3rd wave completes, assuming we reach the aforementioned targets, the next larger degree support zone, a test of which would be the next swing buying opportunity, will come in the $34k-$45.7k region. Once price tops, we will dial in more precise support levels for potential new buys for the members of our trading room.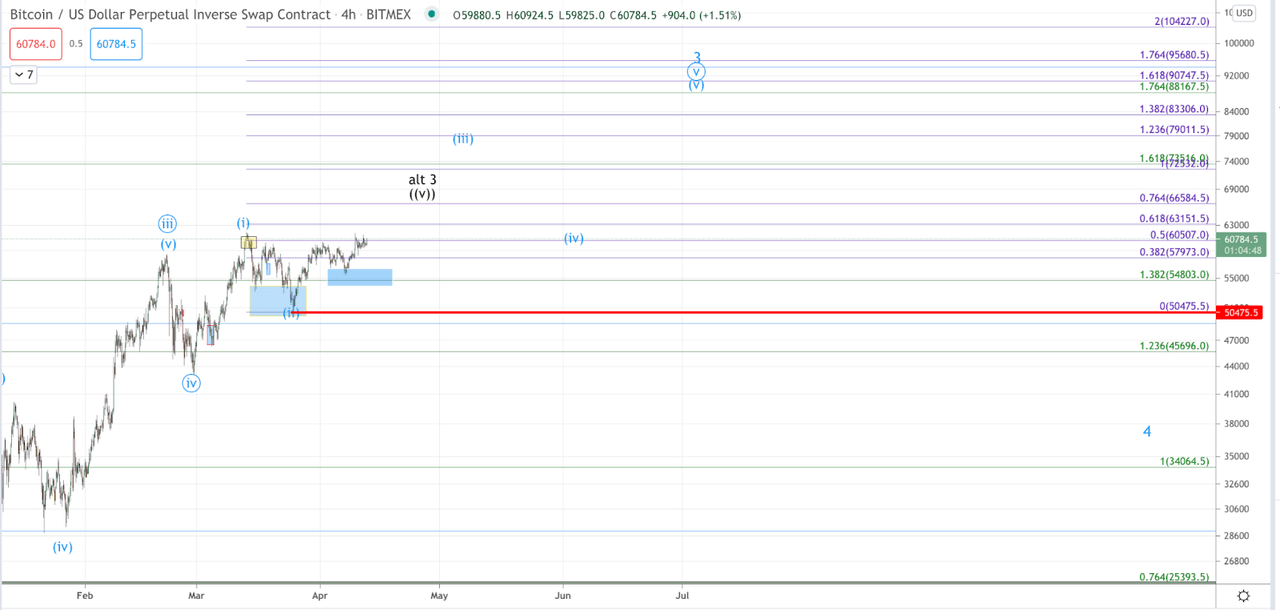 Join Crypto Waves!
Profit from our coverage of 20+ cryptocurrencies and crypto stocks … based on our unique strategy for surfing volatility!
"Ryan's tactics have made the difference for me … when to enter and when to update stops – invaluable."
"Been in your service for most part of 2 years…Really value your work :)"
"Gotta love this service, none better."